This is a typical question every eco friendly minded person asks himself. I cannot tell you exactly but here are a few general guidelines that will tell you how much power your computer generally consumes.
Keeping it very simple, there are two main components of a computer that take most of the power. A screen and the CPU box (that contains most of the electronics of your computer). So we will have different power consumption ranges for these two components.
Power consumption for Computer Screens
In general, the power consumption is higher for CRT monitors. The older fat monitors and TVs are all CRTs. You can read more about the CRT here. The flatter, thinner and lighter monitors take lesser power and are eventually more green and eco friendly. These could be LCD, TFT, LED or Plasma monitors and have their own different properties, but in general they consume power lesser than a CRT. Following is a very general comparison:
Typical consumption of a 17 inch CRT is on average consuming 100 Watts
Typical consumption of a 17 inch LCD id on an average 30 Watts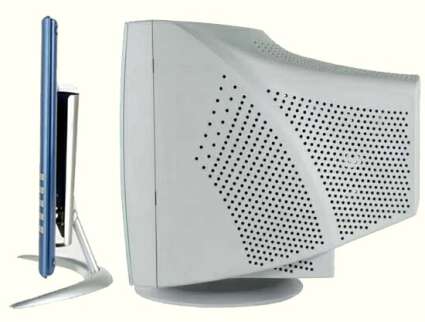 So an obvious option is to ditch your CRT and move on with a lower power variant, most popular are the LCD monitors.
Power Consumption for CPU
If you have a desktop computer, your CPU will comprise of several parts and all these parts will determine how much power your PC will consume. Moreover, what operation you are performing on the computer will also determine the power consumption. As a rule of thumb, a typical desktop computer consumes around 300 Watts. If you want to know about your desktop, try to find the power supply inside your CPU box and the sticker will show the total power of the machine as shown in the image below.
Following is an example of a typical 300 Watts desktop power-supply side sticker:
In case you have a laptop, the power consumption is much lowe. I'll be posting something about it in my next post.